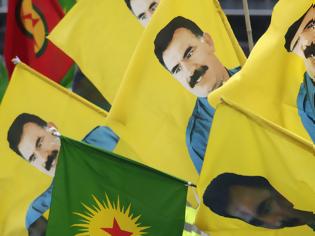 By: Eyup Can. Translated from Radikal (Turkey).
About This Article
Summary :
Following meetings between a leading Turkish intelligence official and imprisoned PKK head Abdullah Ocalan, the two sides have agreed upon a multistep peace accord, according to Eyup Can.
Publisher: Radikal (Turkey)
Original Title:
Here is the new Imrali Accord
Author: Eyup Can
Kurdish demonstrators hold flags with portraits of jailed Kurdistan Workers Party (PKK) leader Abdullah Ocalan in front of the European Parliament in Strasbourg, Feb. 16, 2
Everyone is asking the same question these days. What did Hakan Fidan, undersecretary of the National Intelligence Organization MIT, discuss with imprisoned PKK leader Abdullah Ocalan?  What did they agree on? What is the road map that was set out?
Ever since Radikal broke the story of two days of talks at Imrali Island Prison, the media has been full of news and comments discussing all aspects of the issue. That is fine and necessary but some of the writers are dedicated advocates of fear. That is why before writing about what is in the "New Imrali Accord", we should write about what isn't there.
What is not in the accord?
One, there will be no division of land.
Two, there is no bargaining on territory that could imply an independent Kurdistan. In any case, the PKK has not been making such a demand for some time now.
Three, there will be no alternative governance including a federation.
Four — and this is the most important — there is no democratic autonomy. Yes, you heard it right. The democratic autonomy Ocalan had envisioned and the Peace and Democracy Party [BDP, Kurdish] had unilaterally declared at the most critical phase of the Oslo negotiations, is not in the new accord Fidan and Ocalan agreed on.
Therefore there will no demand for indigenous defense forces, for popular district committees or to draw a boundary for autonomous areas.
Ocalan seems to have read these points correctly after carefully studying the new dynamics of the region in Syria, Iraq and Iran. Ocalan said, "I raised the idea of democratic autonomy — to be debated and fleshed out — but not to be insisted upon."  He clearly expressed his view that at the current phase he sees the solution of the Kurdish issue as "the democratization issue of Turkey." According to Ocalan, every gain of Turkey on the path to democratization will be a gain for the Kurds as well.
Those who ask: "So, what is new about this accord?" haven't grasped that Ocalan's demands are not of the sort that will force the state, and the New Imrali Accord is based on that premise.
Then, what does the accord contain, you might ask? Before we go into that, I should  introduce another category:
They are there but not there
This is the most sensitive heading that must be discussed with utmost care.
First is general amnesty. Second is house arrest for Ocalan. Third is the PKK giving up arms.
As you can see all discussions converge upon these three points. That is why we categorize them as "they are there but not there." For example Prime Minister Erdogan on Sunday drew attention to the importance of the new phase that has been reached. He opened the way for Oslo-style negotiations, but displayed a firm attitude to critical issues by saying "there will be neither amnesty nor house arrest."
PKK military commander Murat Karayilan said that although he finds the new process important, there is no question of the PKK giving up arms. A similar remark was made by  BDP's Nazmi Gur: "The PKK giving up arms was not discussed with Ocalan."
Really?
All the parties know that is not case but at this point they are addressing their own popular bases saying, for understandable reasons, "These issues were not discussed," so as not to block the solution process. They do not want to say that they had already, at the beginning, discussed what should be left to the end. This category has another feature.
If all goes well in this new process — dubbed "Strategy of a Four-Rung Ladder" — the issues of amnesty, house arrest for Ocalan, and giving up arms will not be on the agenda in their current formats. That is why the prime minister was right when he said, "No amnesty, no house arrest."
Amnesty is not only distressing the families of martyrs. The PKK is also not very keen on a concept of amnesty that  suggests "defeat-surrender-guilt." Those who prepared the New Imrali Accord came up with creative solutions to these critical issues. But it will be meaningless to discuss solutions at this time. That is why it is best to treat these critical issues as if "they are there but not really there" until the process reaches its last phase.
Four-Rung Ladder Strategy
Now let's go into what the new accord includes in the framework of the strategy of a four-rung ladder. What is this strategy in reality?
The first comment on the strategy was written by Abdulkadir Selvi of daily Yeni Safak. This is how he described it:  ''This time, unlike Oslo, a 'step-ladder' method will be utilized. A step will be taken. If that works, a second step will follow. That is, unless the first step is reciprocated, there will be no second and third steps. The rungs will be climbed one by one.''
The preparatory move to display the intent for a solution and seriousness of the issue was Ocalan's meeting  with Kurdish politicians Ahmet Turk and Ayla Akat. That was last week. Now we are waiting for the first step in the ladder.
First rung: no clashes
Turk will visit Ocalan at Imrali Prison for a second time with an expanded BDP delegation. In this visit, Ocalan will give four letters to the delegation clearly expressing his decision for a solution. The first letter will be to the BDP, the next ones to the Kandil command and European PKK, and the last to the Turkish public. In these letters, Ocalan will expand on the "Nots" I listed above. In light of new regional dynamics, he will explain why there is a need for  true democratization with empowered local administrations instead of democratic autonomy, and will detail his determination for a solution and explain the accord he has reached with the state. He will ask the BDP, Kandil and the European wing to discuss his proposals.
And as a first step he will send a message to the PKK: ''Declare non-hostility right away." He will articulate the impossibility of taking other steps unless non-hostility is secured.
Second rung: outside of the border
Non-hostility will enable rapid implementation of other steps long readied for democratization. The new clauses of the constitution draft agreed on will be finalized and an atmosphere of mutual confidence will be realized with the new 4th judicial reform package. As this reform will introduce "criteria of violence" to charges of terror, thousands of KCK members [PKK's urban organization] will be freed. At this point, the PKK will announce that about 4,000 of its militants in Turkey will be withdrawn to beyond the borders of Turkey. Of course it is not practically possible to withdraw all of them at one go in winter conditions. After receiving assurances from Turkey that there won't be any interference with the withdrawal, a phased withdrawal will start.
Third rung: negotiations for giving up of arms
If the first two steps are safely accomplished, negotiations will start with the PKK to give up its arms. This is why the prime minister kept the door ajar for Oslo-style negotiations. At this point, even if four Turkish parliamentary parties cannot reach full agreement on the new constitution, the agreed upon points will be announced.
The most critical points for resolution of the Kurdish issue within a framework of democratization are as follows:
First is a neutral definition of citizenship. That means it won't  be a definition that will make everyone a Turk or allude to Kurds. The new definition will be "Citizen of the Turkish Republic."
Second is the removal of barriers to mother-tongue education. It is theoretically and practically impossible to introduce mother-tongue education right away. First, the barriers will be removed and preparations will be made.
Third is the empowerment of local administrations. While doing that, Turkey will withdraw its reservation to the European Council agreement on autonomy of local administrations.
The views of AKP, opposition CHP and the BDP on these issues are actually close to each other. Silencing of guns and the emergence of a lasting peace environment will help these parties to take joint steps.
Fourth rung: farewell to arms
Giving up arms is not an easy matter. The PKK is a regional organization that has been living with guns for 30 years. That is why PKK military leader Karayilan spoke of the need to persuade the mountain cadres and the administrators.
This most the critical phase on which Ocalan will use his clout. Ocalan has a plan in his head but he won't disclose it until the third phase is successfully attained, just like his personal status. What we are told is that Ocalan believes in the plan and has utmost confidence in himself.
Read more: http://www.al-monitor.com/pulse/politics/2013/01/new-turkish-kurdish-peace-accord.html#ixzz2HTYVq1MV