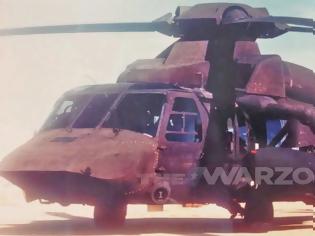 This is the first photo ever of a Stealthy Black Hawk helicopter (photo)
We are constantly on the lookout for more details about the U.S. military's highly elusive stealthy Black Hawk helicopters, one of which famously crashed during the raid that led to the death of Al Qaeda leader Osama Bin Laden in 2011, as well as any possible predecessors that predated them. Now, what appears to be a previously unpublished picture has come to our attention that shows a heavily modified EH-60 electronic warfare and signals intelligence variant of the Black Hawk. Is seems to be, at the very least, one of the missing links connecting the unique Black Hawk helicopters used on the Bin Laden raid and stealthy Black Hawk design concepts dating back to the 1970s.
It is our understanding that the picture in question seen at the top of this story and again below in a slightly enhanced manner, has a relation to Fort Eustis in Virginia
. In addition to being home to 128th Aviation Brigade, previously known as the U.S. Army Aviation Logistics School, Fort Eustis' Felker Army Airfield it also hosts a unit commonly known as the Flight Concepts Division (FCD), that is now called the Aviation Technology Office (ATO). This is the unit understood to be responsible for leading the development of the stealth Black Hawks used during the Bin Laden raid and many of the U.S. Army's most advanced and secretive rotary-wing capabilities.
The picture is undated and we have no immediate information about any program or programs the helicopter might have been associated with. The location where it was taken is also unknown, but is a desert locale that could indicate it was shot somewhere in the American southwest, which is home to a number of aviation test facilities, including top-secret air bases, such as Area 51 and the Tonopah Test Range Airport. The stealthy Black Hawks used in the Bin Laden raid were housed at the former, according to reports.
anatakti