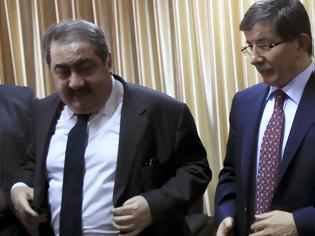 Iraq's Foreign Minister Hoshyar Zebari (L) and his 
Turkish counterpart Ahmet Davutoglu (R) meet in 
Rafah in the southern Gaza Strip Nov. 20, 2012.
By:Cengiz Candar. Translated from Radikal (Turkey).
 About this Article 
Summary: 
Speaking to journalists while en route to a NATO meeting in Brussels, Turkish Foreign Minister Ahmet Davutoglu said that tensions between Baghdad and Erbil could quickly become an Arab-Kurd war in Iraq and that he is more worried about Iraq than Syria, writes Cengiz Candar. 
Publisher: Radikal (Turkey) 
Original Title: 
Talking Iraq-Syria While Chasing Patriots With Davutoglu 
Author: Cengiz Candar 
Traveling with Foreign Minister Ahmet Davutoglu allows for a good opportunity for a tour d'horizon of foreign policy, but sometimes you miss out on what is happening on the ground, as was the case yesterday. After landing in Brussels, he headed to the NATO Foreign Ministers meeting and we heard the news that the plane of our Energy Minister Taner Yilmaz was not allowed to land in Iraq. 
Iraq's Foreign Minister Hoshyar Zebari (L) and his 
Turkish counterpart Ahmet Davutoglu (R) meet in Rafah in the southern Gaza Strip Nov. 20, 2012. 
The tension with Baghdad cannot be dismissed. Remember how Baghdad was furious when Davutoglu visited Kirkuk. Was this payback? They cannot physically prevent the energy minister from going to Erbil by road. What was disturbing was yet another manifestation of the troubles in Ankara-Baghdad relations and shows that our tense relations are not confined only to the issue of Syria.
When you look at the map, it is obvious that Turkey doesn't have any problems with its ''real'' neighbor, Iraqi Kurdistan and the Kurdistan Regional Government under Massoud Barzani. To the contrary, these relations are improving by the day.
But tension between Erbil and Baghdad has the potential of developing into tension between Ankara and Baghdad. Of course we should not ignore Tehran's shadow, which is behind every move Baghdad makes against Erbil and Ankara. You have to watch the latest Middle East developments on a wide screen.
While chatting with Davutoglu on the plane — before learning about the problem with the energy minister — we asked him about his views on Erbil-Baghdad tensions. 
Davutoglu did not hide the fact that he is more worried about that issue than he is about the developments in Syria.  
 When explaining why his concern for Iraq was greater than that for Syria, he said that the events in Iraq have the potential of turning into an Arab-Kurd war and the situation was truly serious. 
He added both sides — the Tigris Operations Command forces set up by Maliki and Kurdish peshmergas [fighters] — were potent and well-organized forces.
Davutoglu said the developments in Syria were relatively easy to predict, as the regime's capabilities are known. However, how the situation will develop in Iraq was not that easy to foresee. 
His views on the short life expectancy of the Syrian regime have not changed. 
He even perceives the resignation of the Syrian Foreign Ministry Spokesman Jihad Makdissi as an indicator of the crumbling of the regime.
In that case, why is Turkey pursuing Patriot missiles?
Ahmet Davutoglu said that Syria has far more than 500 missiles. 
"We know where they are, how many there are and how they move. We watch them constantly," Davutoglu said. 
The minister and his team do not expect Syria to use these missiles against Turkey, but with the disintegration of the regime these missiles could be taken over by "uncontrolled forces" and Turkey could not neglect the possibility of these forces firing the missiles.
One of Davutoglu's closest aides said: "Even if there is 1% or 3% probability of this happening, we cannot take the risk."
Patriots alone cannot handle all of Syria's missiles.  Patriots are considered in concert with THAAD [Terminal High Altitude Air Defense] anti-missile systems and Aegis systems against missiles fired at very high altitudes.
The real purpose of the patriot missiles is to provide a deterrent against Syria and, more importantly, to show  that Turkey is a part of a collective security system and that NATO will carry out its part in defending Turkey.
We learned that Patriot missiles were not mentioned in the meetings with Putin and Lavrov. 
But Davutoglu wanted to tell us that although the Istanbul Summit did not fully eliminate the differences between Ankara and Moscow over Syria, positions were becoming closer.
I understood that Turkey will continue with initiatives to shorten the life of the Syrian regime after the deployment of Patriot missiles, and will be in close contact with Egypt regarding the transition in Syria.
No doubt, developments in Iraq will be watched closely. Prevailing opinion is that Maliki believes that a civil war is inevitable in Iraq following the collapse of the Syrian regime and is positioning himself accordingly.
As you can see we are continuing to debate the Middle East in the air, on the ground and in the center of Europe.
Read more: http://www.al-monitor.com/pulse/security/01/12/ahmet-davutoglu-iraq-syria-interview.html?utm_source=&utm_medium=email&utm_campaign=5447#ixzz2EJCMDYSr
InfoGnomon