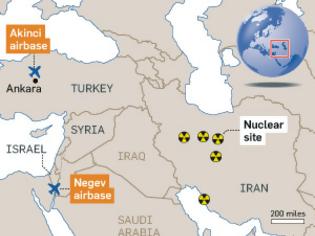 By JPOST.COM STAFF
'Sunday Times' reports J'lem will offer Ankara advanced defense systems in return for use of Akinci airbase for IAF training.
Israel is seeking to use a Turkish airbase to train for a possible attack on the Iranian nuclear facilities, The Sunday Times reported.
Yaakov Amidror, the head of the National Security Council, was due in Ankara on Monday to discuss the full restoration of diplomatic ties with Turkey, following Prime Minister Binyamin Netanyahu's apology to his Turkish counterpart Recep Tayyip Erdogan over the 2010 Mavi Marmara incident.
Amidror heads a delegation meant to discuss the compensation for the families of the nine Turkish activists that were killed in the IDF raid on the Gaza-bound flotilla.
Additionally, Amidror has been assigned to try to resuscitate the 1996 agreement between Jerusalem and Ankara which allowed the IAF to train in Turkish airspace and use the Akinci airbase. In return, Israel will offer to sell Turkey advanced missile and surveillance technology, the Times reported.
According to the Times, among the advanced systems Amidror will offer the Turks are the Arrow anti-ballistic missiles defense system, a visual intelligence system developed by Israeli defense company Elop that can create a precise image at a range of 60 miles during day or night and under any weather condition, and an advanced electronic warfare system made by Elta.
Turkey and Israel share concern over Iran's nuclear program, that Tehran claims is being developed solely for peaceful purposes. The two countries are also interested in military cooperation over the concern of spill-over from the Syrian civil war, the Times quotes an Israeli defense source as saying.
"Turkey is very worried by Iran's missile ambitions — countering this independently would take them years. With Israeli know-how based on the Jericho ballistic missiles, the time-frame will be cut short," the source is quoted as saying.
http://www.jpost.com/Defense/Jlem-seeks-to-use-Turkish-airbase-to-train-for-Iran-strike-310538