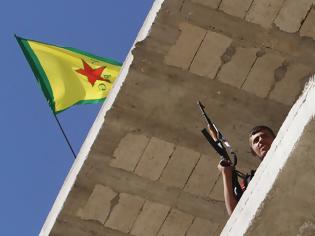 By:Wladimir van Wilgenburg* for Al-Monitor
A Kurdish fighter from the Popular Protection Units (YPG) holds his weapon as he takes position atop a building with a YPG flag in Aleppo's Sheikh Maqsoud neighborhood, June 7, 2013.
Issa Ibrahim Hiso, a prominent member of the Democratic Union Party (PYD), was assassinated on Tuesday morning, July 30. Some Kurds suspect a connection between the murder and the recent visits of Kurdish leaders to Turkey, although fighting has also been taking place since July 16 between al-Qaeda and the Kurds.
The assassination follows a two-day visit by PYD leader Salih Muslim with Turkish foreign officials on July 26 and 27, and one by Nechirvan Barzani, the prime minister of the Kurdistan Regional Government, with Turkish Foreign Minister Ahmet Davutoglu on July 29 to discuss an upcoming national Kurdish conference in Erbil in mid-August.
On July 26, a few days before the assassination, the local Kurdish police in Qamishli, Syria implemented security measures in response to al-Qaeda attacks, including banning trash bags in the streets, restricting parking for cars and closing shops late at night.
The killing was condemned by the pro-Kurdish Democratic Society Congress (DTK), which stated, "The targeting of the personality of Hiso was actually an attack on the wish of the people of Western Kurdistan [Syria's Kurdish area] in gaining autonomy. We call on all Kurds of Kurdistan to create a circle of protection for Kurds in Western Kurdistan."
In July, the PYD announced that they would form an interim government in the Kurdish-dominated areas of Syria and hold an election. Before Hiso was killed, he wrote on his personal Facebook account about the need to form a local democratic administration in Syria's Kurdish areas through common struggle and hard work.
Hiso, born in Qamishli in 1962, was killed by a remotely detonated bomb in his car while leaving his house for work. The PYD politician featured prominently in Kurdish politics and had been jailed and tortured several times by the Syrian security services.
He filled several roles after 2011, including being a member of the joint Kurdish governing body, the Supreme Kurdish Council's diplomatic relations committee and the People's Council in West Kurdistan. He also had a hand in social affairs, helping solve local disputes in Qamishli.
Azad Dewani said that Hiso resolved a disputed between a Christian family and the Kurdish community as a member of the People's Court. "He solved a problem between my brother and George Nashif, a goldsmith. The [Christian] goldsmith was hated by many people, but the People's Court managed to solve the dispute peacefully."
Sherwan Ibrahim, a member of the PYD involved in setting up meetings with Turkey, told Al-Monitor via Skype that the killing could be a message from the Syrian regime to Turkey.
"Mr. Hiso wasn't very known among the Syrian opposition, only among the Kurds. It was a message to us [from the regime]. He played a role in negotiations," he said.
One of Hiso's sons, Ferhat, died in the Black Sea province of  Trabzon on Aug. 21, 2005, fighting against the Turkish army as a Kurdistan Workers Party (PKK) insurgent. Another son, Ibrahim, joined the PKK in 2009 with a group of volunteers.
Barzan Iso, a Kurdish journalist based in Istanbul, told Al-Monitor that most Kurds suspect that the Syrian government was behind the assassination, saying, "Especially after Salih Muslim visited Turkey, but we do not have a clear idea about it. I talked with people inside Qamishli from the PYD and the police, and there are too many suspects who have interests in killing him. We cannot suspect any side yet."
The Kurdish journalist, who met Hiso last summer in Istanbul, said the politician played a role in Turkish-PYD relations. He said, "Issa Hiso was the first high-ranking PYD member who visited Turkey to establish the basis for the visit of Salih Muslim. He is not very well known among Syrians and among al-Qaeda. If [al-Qaeda] did this crime or assassination, they would maybe announce it."
Zara Saleh, a member of the Kurdish Unity party based in London (a rival party to the PYD), and who is also from Qamishli, thinks the murder is a message to the PYD. Saleh said, "I think this situation happened because of the visit of Salih Muslim. The PYD is part of the PKK's strategy in Syria, and the Syrian regime knows this very well. If the relationship between Turkey and the PYD is good, it will affect Syria. It was not done by Jabhat al-Nusra or al-Qaeda."
Welid Shexo, a representative of the Kurdish Freedom Party in Europe, agreed, saying, "I expect it is related to Turkey's relationship with Salih Muslim."
Nevertheless, the assassination could also have been committed by groups affiliated with al-Qaeda in Syria, such as Jabhat al-Nusra or the Islamic State of Iraq and the Levant, which have been engaged in heavy fighting with the Kurdish People's Protection Units (YPG) in the governorates of Raqqa, Aleppo and Hassakeh since July 16. But so far, these groups have not taken credit for the killing.
Michael Weiss, the former research director of the Henry Jackson Society, did not rule out al-Qaeda involvement, saying, "Al-Qaeda has a habit of attacking PYD officials with car bombs in Hassakeh, and the fact that the PYD declared a war against jihad after this assassination suggests that it believes [Jabhat] al-Nusra and the Islamic State were responsible."
PYD spokesperson Alan Semo, however, thinks there is no question that al-Qaeda groups are responsible. "Suicide bombs also targeted the Asayish in Hassakeh and in Tel Kocer. Definitely, nobody else can act in the way they do. Isn't it the same as what they did in Baghdad? It's not the regime [of Syrian President Bashar al-Assad] or Turkey, but an investigation is ongoing."
The People's Protection Units called on "all persons able to carry a weapon to join their ranks in order to defend the YPG-held areas from the attacks of the Islamic State of Iraq and al-Sham, [Jabhat] al-Nusra and allied rebel groups."
The Kurdish news website Welati reported that before the assassination, al-Qaeda groups created a new strategy to fight against the Protection Units, and targeted PYD positions in the city of Hassakeh with bombs. On Wednesday morning, July 31, Kurdish police officer Jamal Issa lost his life after a homemade bomb exploded at a police checkpoint.
Kurdish politician Zara Saleh thinks the recent clashes are instigated by Assad and that Kurds need more unity. He said, "The regime is using this situation to create a civil war between Kurds and Arabs. For this reason, the PYD and other Kurdish parties should be one front."
Abdulbaset Sieda, a Kurd and former head of the Syrian National Council, condemned the attack in a statement and suggested, "This work is a part of terrorist tactics which began in Kurdish areas recently, marked by killings, kidnappings and threats."
*Wladimir van Wilgenburg is a political analyst specializing in Kurdish politics. He has written extensively for Jamestown Foundation publications and other journals, such as the Near East Quarterly and the World Affairs Journal. He currently writes for the Kurdish newspaper Rudaw.
Read more: http://www.al-monitor.com/pulse/originals/2013/07/assassination-complicated-syrian-kurdish-factions.html?utm_source=&utm_medium=email&utm_campaign=7893#ixzz2ajUYwaPe
InfoGnomon